Studio Spaces
Functional Spaces
Strength Spaces
Let's Get Started!
The vision for this new construction training facility was to create a community fieldhouse for all levels of athletes from every generation. This long-tailed project was driven by the owner's passion for faith, family, fitness, and community. "I wanted to create a place that everyone from the Pros to Average Joes could train together with their families"; and that he did.
The Clubhouse was designed to cater to the athlete within us all with five distinct training zones to create well-rounded athletes of every age. The free weight room features benches, dumbbells, and lifting stations customized with Club colors and logos at the level of professional sports teams. The cardio zone provides member access to state-of-the-art treadmills, bikes, and ellipticals all while watching their favorite sports on the flat screen TVs. The indoor field is the centerpiece for large group training sessions with enough functional training equipment and accessories to accommodate over 50-75 participants at a time. The largest group classes extend to the outdoor field when more training stations and space are needed. The indoor and outdoor fields also host youth sports and coaching sessions. The fifth and arguably the most important zone for any athlete is the Recovery Zone; it provides a great place for core activation and prehab exercises as well as flexibility training.
The quote on the wall of The Clubhouse reads "Training for the Sport of Life" and serves as the purpose for this tight community, united in fitness.
FEATURED SOLUTIONS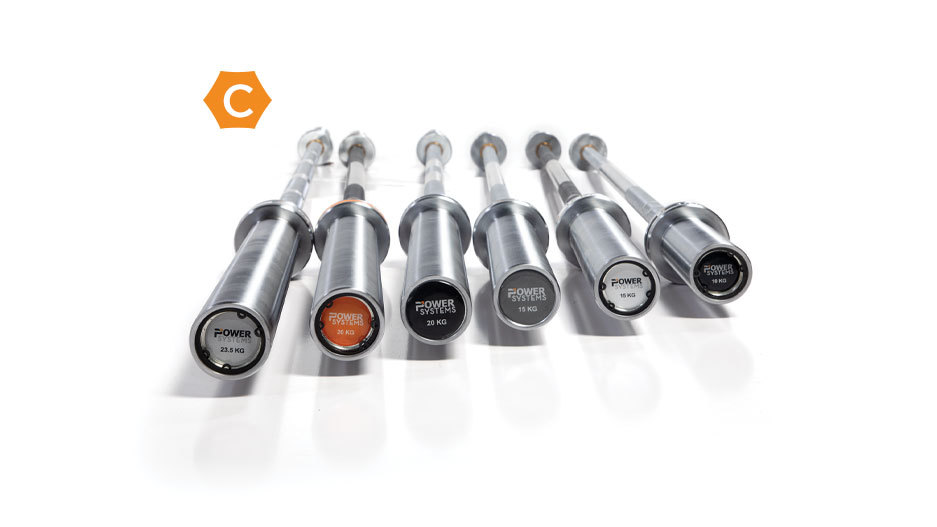 POWER SYSTEMS HYBRID BARBELLS
Best all-around strength and recreational Olympic weightlifting barbell.