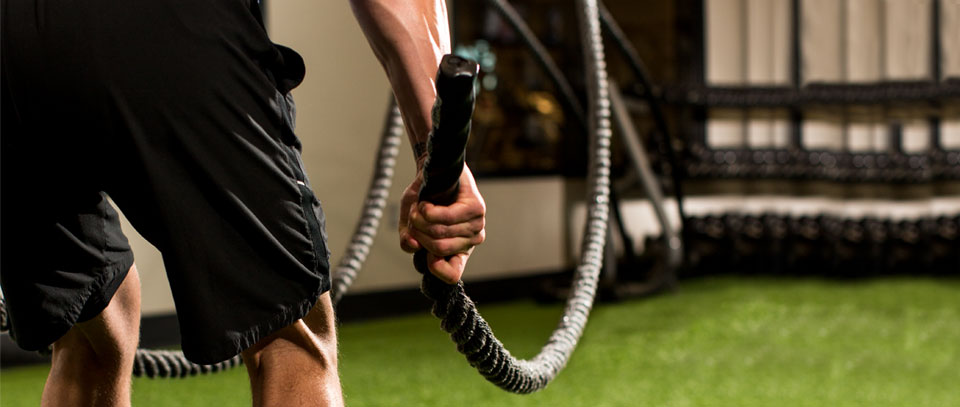 Training Rope
Increase Your Strength and Performance with Battle Ropes
You've probably seen lots of ropes being used at your fitness center for pulling and climbing. However, there can be much more to ropes than that! There is a specific kind or rope that can be used to increase strength and performance: battle ropes (also known as training ropes, workout ropes or fitness ropes). Already commonly used in functional training, battle ropes from Power Systems are used as a high intensity interval training tool (HITT), by using the ropes in a series of linear and circular motions. It's a tough, effective workout.

What Are the Benefits of Training Ropes?
Because there is no joint impact involved in using workout ropes, they are considered a low impact activity. All the force from the battle ropes is applied to the musculoskeletal system. Using battle ropes can correct musculoskeletal imbalances, because you must use the ropes in a balanced, consistent manner on both sides of the body. Additional benefits include:


Functional fitness. Battle ropes involve the whole body, which means the neuromuscular system gets a great workout as well as each individual muscle system. You'll develop a strong grip and increase your power substantially. The high intensity nature of the workout will significantly increase your cardiovascular endurance.
It's fun. Workout ropes are a great way to inject variety and a new kind of intensity into your exercise routine.
It's versatile. You can workout with fitness ropes anywhere there is enough space for the ropes and an anchor. You can use them at the gym, at home, or in your backyard.

What Kinds of Battle Ropes does Power Systems Offer?
Power Systems offers a variety of ropes, anchors, and teaching tools to help anyone start using battle ropes or increase the intensity of their fitness rope workout. You can choose from thinner (1.5") or thicker (2") ropes, depending on your grip and on the level of intensity you seek. A popular high-level training rope the Beast Slastix Battle Rope and its smaller counterpart, Son of The Beast. While traditional fitness ropes only allow for a single plane of force, The Beast counters your every movement, therefore requiring muscle contractions throughout the entire body. We also offer rope anchors and storage racks to keep all your training ropes in place. Add battle ropes from Power Systems to your workouts to take your strength, grip and power to the next level.
Loading ...