Shift Your Gym Outside
Are you considering the #1 most requested trend in fitness right now? Outdoor training spaces offer many benefits to training centers and their clientele, including the ability to train members if indoor capacities are reduced.

Wondering how to add an outdoor fitness space to your facility? We break it down for you into simple and budget friendly steps.
Your Outdoor Fitness Project Just Got Easier
When you work with Power Systems to create your outdoor gym, we take the stress out of the equation. You can get the equipment, storage, surfacing and shade – all available through one supplier. It is the simplest way to create a cohesive, attention-grabbing outdoor training space. Take advantage of having one point of contact for all the key elements to your new outdoor training area.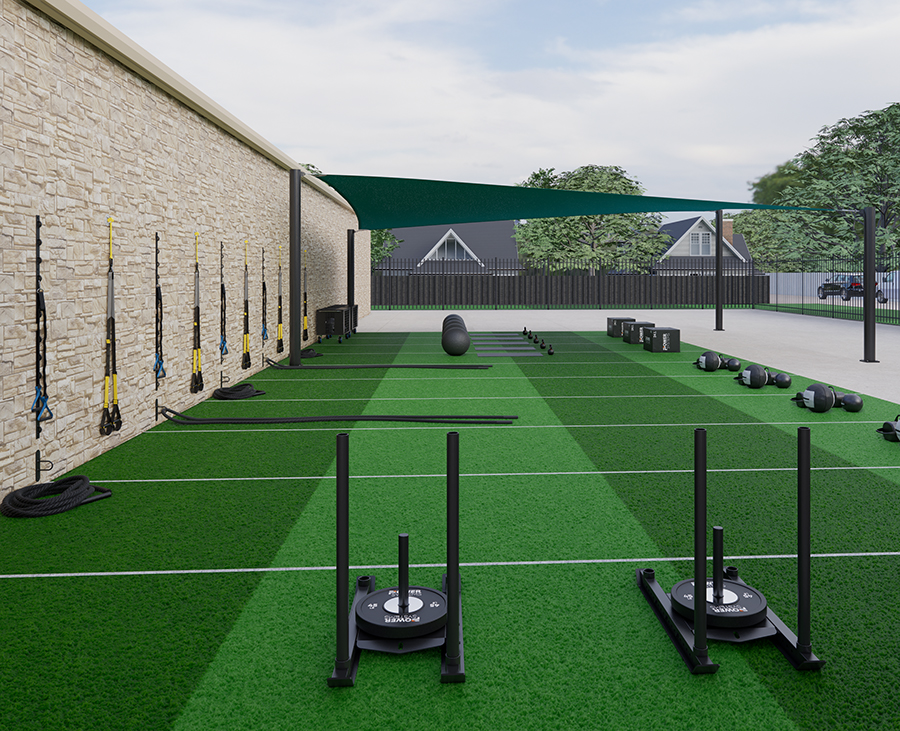 Start With What You Have
Creating a dedicated outdoor fitness space doesn't have to be expensive or take a long time. One of the best ways to get started is to simply move your existing equipment outside for classes using mobile storage, like those in the APEX Line. The next step is deciding upon a permanent location and then building a budget and project timeline to execute. That's where we come in. By having a conversation with our outdoor gym experts, we can guide you through the planning process, including:
How to budget for your outdoor gym
The pros & cons of investing all at once
Determining a realistic project timeline
and more
To begin,
download our free resource
on selecting the right outdoor gym equipment.
Reap the Benefits of Creating an Outdoor Gym
Working out outside is a familiar fitness trend that is re-surging in a new-normal way. Here are the top 5 benefits to creating an outdoor gym:
Increase member engagement with a new training environment
Expand your facility footprint to serve more members
Lower cost alternative to a building expansion
Make use of available, vacant, and existing outdoor space
Put your programming and training services on display for your community to see
Steps to Shifting Outside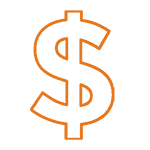 Budgeting
Developing a realistic budget is one of the most critical aspects to your project's success.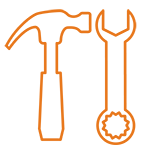 Installation
Don't forget to plan for the installation of permanent fixtures in your outdoor training area.
INSPIRATION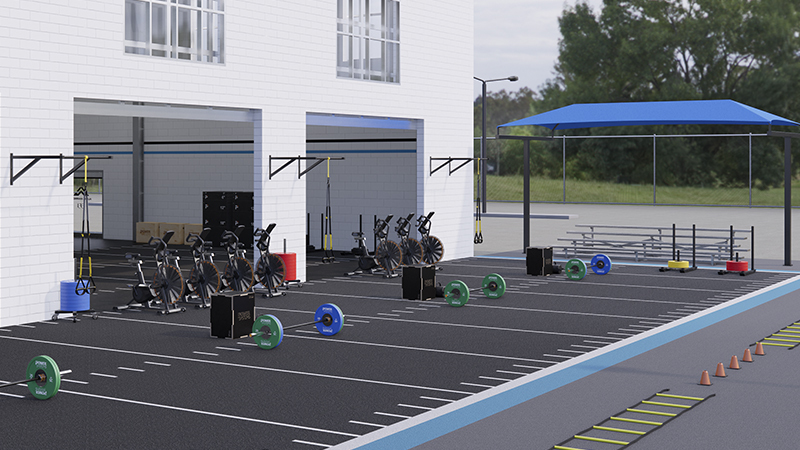 Enhance and improve the flexibility of existing outdoor surfaces by adding synthetic turf and rubber surfacing.
Exterior Walls make great mounting surfaces for pull up bars, rope anchors, and resistance training stations. Just remember to bring your TRX suspension trainers and tubing inside every night!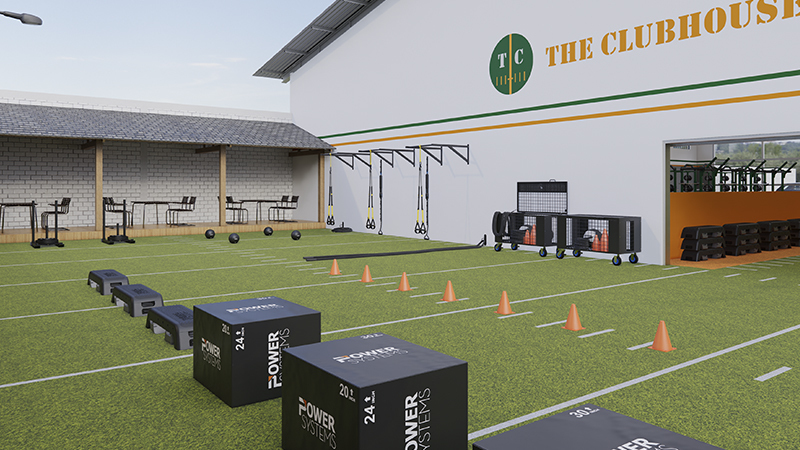 Add dedicated seating and shaded areas to encourage community and entice members to move their workouts outside.
If you don't have permanent outdoor fitness storage, consider something with wheels, like our APEX line of movable storage.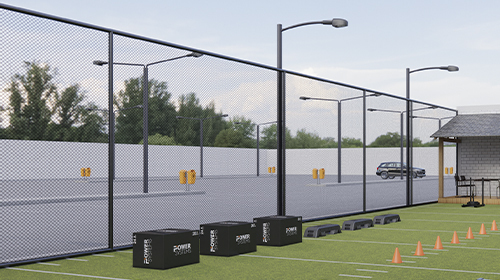 Consider exterior lighting and appropriate boundaries to create the best member experience.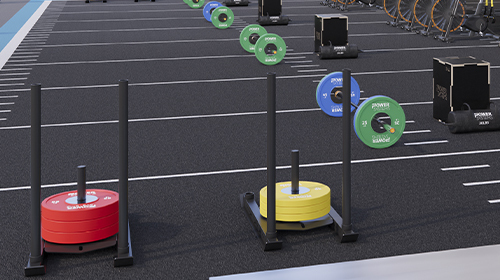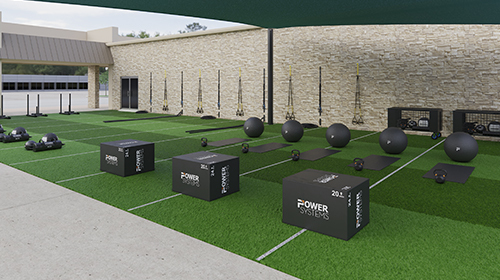 Use adjacent vacant space to create a permanent setting for outdoor workouts as a quick, low-cost alternative to facility expansion.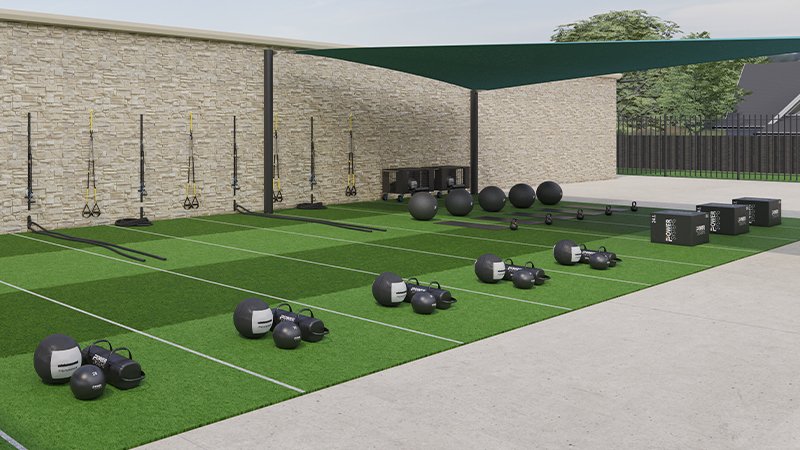 Shade structures come in a large variety of sizes, shapes, and colors. Shield your members from up to 98% of harmful UV rays and reduce the temperature in the space by up to 30 degrees.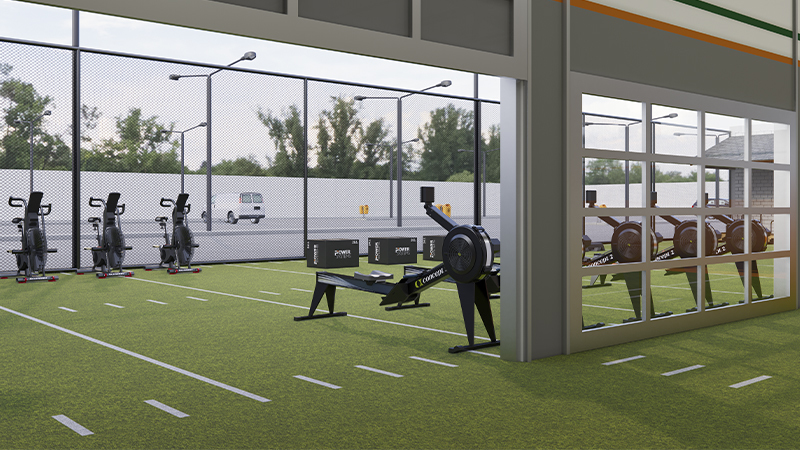 Add roll up or folding doors and windows to access your outdoor space. Large openings allow fresh air flow and makes the transfer of equipment from inside to outside easier.
CONNECT WITH US
Interested in learning more about how you can create an outdoor gym in your space? Fill out the form below and a Power Systems team member will contact you shortly.