integrate More Space to Stretch & Cool Down
As people begin to focus on personal health & well-being, a dedicated space within a facility for pre- and post-workout recovery & rejuvenation is becoming the expectation. Recovery zones provide a place to balance out high-intensity classes and workouts, relieve stress, and prevent muscle soreness. The best part? Adding a dedicated space for recovery training can be simple and very cost-effective.
Curated Selection of Recovery Tools
Whether you are looking to equip an entire room dedicated to recovery training, or expand your selection of recovery equipment, we've got you covered. Power Systems offers a wide selection of foam rollers, exercise mats, percussion massage tools, resistance bands and tubes all made for durability in commercial use setting. Not sure how much recovery equipment you need? We can provide guidance on what and how much to order and recommend proper storage solutions.
Make the Most of Your Studio
Protect Your Investment
Quality recovery equipment is an investment in your facility, staff, current and future members. Protect your investment and increase the lifespan of your group exercise equipment by:
Maintaining a regular inspection schedule.
Investing in proper storage solutions.
Replacing equipment as recommended.
Featured Recovery Spaces
Recovery Space A
Size: 540 sq ft
Recovery zone addition gives new purpose to a low traffic, open space near the cardio floor.
Recovery Space B
Size: 375 sq ft
Recovery loft space inside a performance training facility.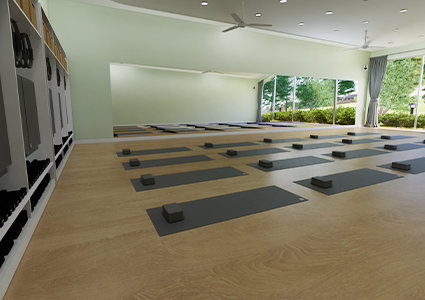 Recovery Space C
Size: 1,300 sq ft
Large conference room converted to a group mind-body studio.