Maintaining a consistent workout routine can be tough when you do not have regular access to a fitness center. However, you don't need a stand-alone room to create an at-home workout space of your own. Check out these examples of the home gym potential that exists in the shared spaces of average sized spare bedrooms, basements, garages, and loft spaces.

Invest in yourself. Invest in a consistent workout routine. Count on Power Systems for the long-lasting, commercial grade fitness equipment to intensify your at-home workouts.
GARAGE GYM
GARAGE GYM
Many people turn to their garage to begin a home gym project. However, you don't have to leave both cars out in the cold to make it happen. In this example, we used 1/2 of an average sized 2-car garage to show you how much really fits into this space.
•

Average 2 car garage: 24'L x 24' W x 12'H

•

Gym Space Shown: 24'L x 12'W x 12'H
No matter your budget, Power Systems has options!
SQUAT RACKS:
BENCHES:
WEIGHT PLATES:
BARBELLS
FEATURED PRODUCTS
SPARE ROOM GYM
SPARE ROOM/OFFICE GYM
A guest room or home office space can double as a home workout studio. Start by selecting the equipment that is most important for you to maintain a consistent workout routine at home without sacrificing too much floor space.
•

Average Standard Bedroom: 11'L x 12'W x 8'H

•

Example Bedroom: 22.3'L x 17.4'W x 8'H
No matter your budget, Power Systems has options!
STABILITY BALLS:
YOGA MATS:
CARDIO PUMP SETS:
FEATURED PRODUCTS
ATTIC/LOFT GYM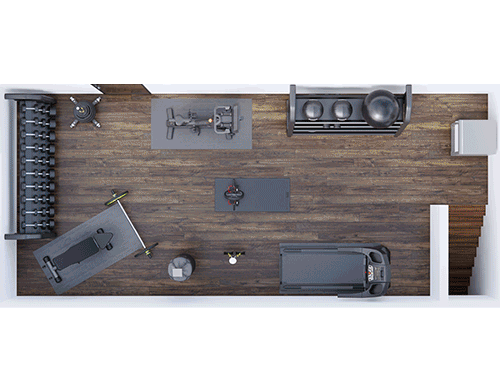 ATTIC/LOFT GYM
Not sure if your loft space is big enough to host your home workouts? You might be surprised what you can fit into these sometimes awkwardly shaped areas. All you really need is about 6' x 8' of floor space to get an effective workout in at home.

No matter your budget, Power Systems has options!
FITNESS MAT:
EQUIPMENT MAT:
STORAGE:
RECOVERY:
CORE:
FEATURED PRODUCTS
BASEMENT GYM
BASEMENT GYM
Finished or unfinished – a basement can be a great place to start your home gym. This hidden gym in your home can be a dedicated workout space all its own - or a functional shared space with storage or living areas.
•

Average basement size: 700 to 1100 SF

•

Workout portion example: 33'L x 20'W x 8'H
No matter your budget, Power Systems has options!
TUBING:
WALL BALLS:
YOGA ACCESSORIES:
DUMBBELLS:
FEATURED PRODUCTS