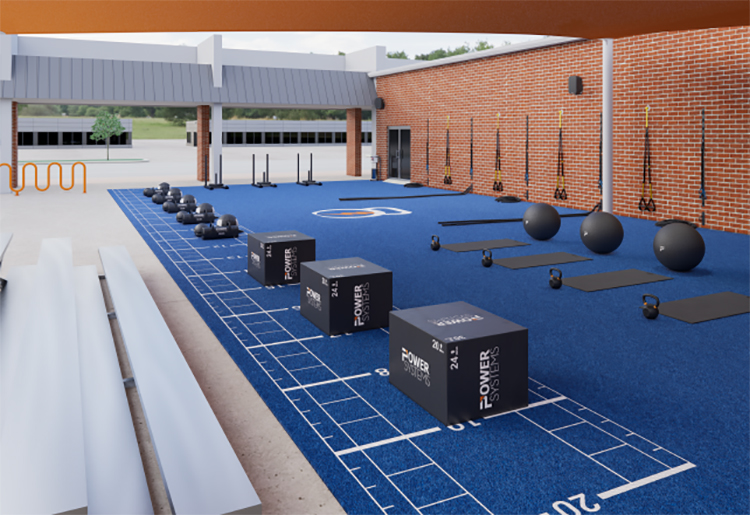 Plan Your Outdoor Gym
Over the last several years, there has been increased participation in outdoor exercise. Transforming the underutilized outdoor area adjacent to your fitness center into a permanent outdoor workout space can be a good investment. The best part? It can be a cost-effective project with a quick turnaround time. Below, we outline the key elements to consider when building an outdoor gym. If you have questions, connect with our gym experts.
Key Components
When planning an outdoor workout area, make sure to consider these 6 key elements.

Dedicated Outdoor Space
To create a long-term outdoor gym, choose a space that can be securely partitioned away from traffic and uninvited guests. Ideally, the space would be mainly flat and clear, with plenty of room to host outdoor workouts.
Overhead Shade
Adding a shade over your workout area can reduce the temperature by up to 30 degrees and shield your members from harmful UV rays. Incorporate intentional shade by extending your current roof or adding a commercial-grade shade structure - available in different fabrics, sizes, and colors.
Surfacing
The foundation for your outdoor workout space plays an important role. Grassy, unpaved surfaces can get muddy, uneven, and lack grip. Concrete and asphalt provide a solid base, but the high rigidity can be tough on joints. Whether your outdoor fitness space will be permanent or seasonal, consider investing in turf or rubber roles/tiles.
Storage
Avoid leaving outdoor gym equipment permanently exposed to the elements. Add outdoor storage solutions that can limit exposure to excessive heat and cold while providing appropriate ventilation. The ideal solution is to invest in mobile fitness equipment storage to make moving large quantities of equipment indoors and out simple and convenient.
Equipment
When selecting equipment to be used outdoors, quality, durability, and portability are the most important. Choose versatile pieces that match the outdoor classes you offer and can provide a total body workout for members who choose to exercise outdoors alone or with a partner. Select commercial-grade equipment that is designed for high volume use and lists materials such as rubber, stainless steel, or urethane.
Audio
Acoustics in outdoor spaces can make it difficult to consistently hear an instructor when conducting outdoor classes, especially if stations are spread out. Large portable Bluetooth speakers with a wireless mic will make all the difference for your instructors and participants. For a more permanent solution, consider an outdoor sound system that integrates with your indoor system.
Enhancements
Take your outdoor training space to the next level with a few upgrades that give the space a complete, intentional feel and create an experience your members won't find anywhere else.
Indoor/Outdoor Integration
Create a sense of connection between your indoor and outdoor workout space by adding roll-up doors. Larger doors increase traffic and flow between the two training areas and make it easier to transfer equipment in and out.
Anchors
Look for existing anchor points in your outdoor workout space to secure training ropes, resistance bands, or suspension trainers. If existing anchors are limited, a small investment to add rope or suspension anchors to exterior walls can be a quick, budget-friendly solution to enhance outdoor fitness classes with functional training exercises.
Sanitation
While outdoor workouts can help avoid the spread of airborne germs, keeping the equipment clean and sanitized between users and classes provides an even lower risk of sharing germs. Add sanitation stations to the outdoor fitness space to reassure members that cleanliness is still a priority, even during outdoor exercise.
Benches & Tables
Make your outdoor workout space more inviting and encourage socialization by adding benches & tables.
Lighting
Adding outdoor lighting extends the hours that your patrons can safely exercise outside.
Fans & Heaters
Extend your outdoor season by incorporating fans and/or heaters into the design of your outdoor gym.
CONNECT WITH US
Interested in working with our team to plan your outdoor workout area? Fill out the form below and a Power Systems team member will contact you shortly.