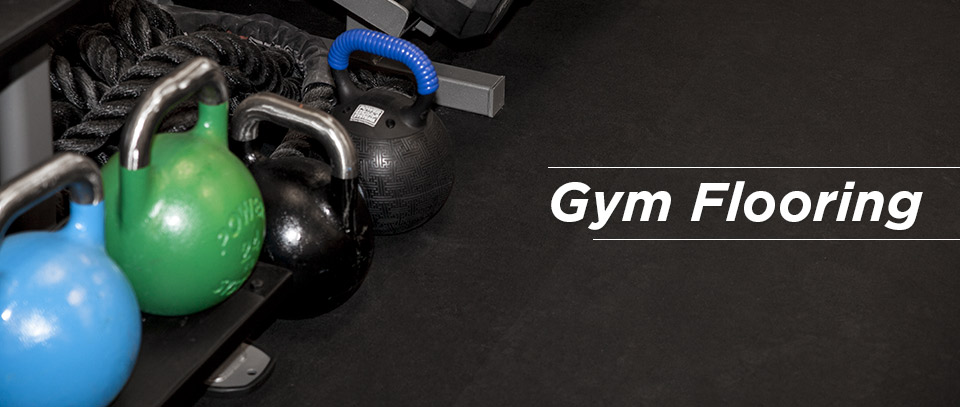 Gym Flooring
Increase Cushioning and Safety with Rubber Gym Flooring
As important as the quality of the equipment you select for your gym, training center or rehabilitation center is the gym flooring you will use. Power Systems knows that high quality gym flooring is essential to maintain comfort and safety for all exercisers. Good quality rubber gym flooring, rubber floor mats and rubber tiles will help protect exercisers' knees and ankles from injury. Good flooring is also important because many of today's sports activities involve a lot of jumping, and high quality gym mats will reduce the force of the impact on the legs and feet.

Why is Rubber the Best Material for Gym Flooring?
Rubber is highly versatile and sustainable product that can be made into an almost endless range of colors. Unlike EVA tiles, rubber gym flooring and home gym flooring from Power Systems is anti-static, and rubber floor mats are also great at dampening sound while absorbing shock. Rubber is malleable and rubber mats prevent slippage during intense activity. In the free weights area, people may drop dumbbells, barbells and other accessories. A thick layer of rubber gym flooring protects the floor and reduces the sound of those impacts. In short, Power Systems rubber floors simply create a safe and pleasant environment inside your fitness facility.

What Kinds of Gym Flooring Does Power Systems Offer?
Portable, rollable rubber safety mats of various sizes are available for activities such as yoga or Pilates, or for individual stretching activities. Large rubber floor rolls can be used to protect larger exercise areas. LokTuff Gym Flooring is a popular choice for larger institutional or commercial fitness centers and can simply be rolled into place. Plyo Runway Mats are made of soft PVC, and are suitable for placement under heavy weight training equipment or cardio equipment such as bikes, treadmills, or stair climbers. Whether your flooring is for home use or to outfit a large training facility, Power Systems has a gym flooring solution that will be effective and safe for all types of exercise.