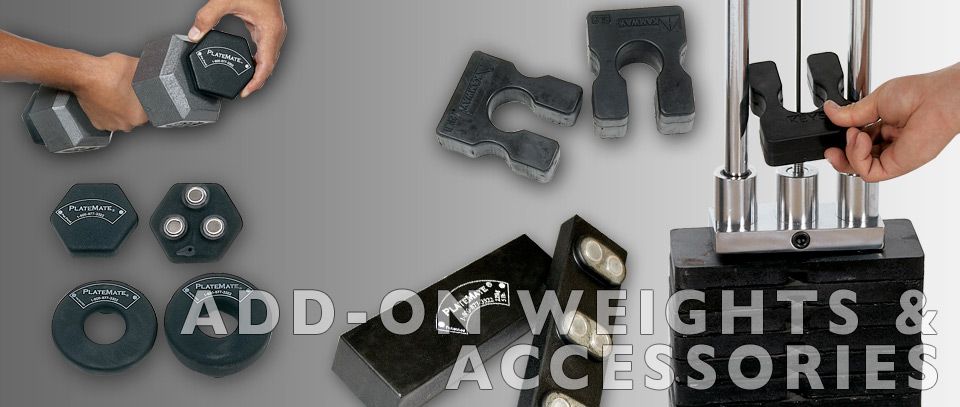 Add-on Weights and Accessories
Customize Strength Training by Adding Dumbbells and Add-On Accessories to Workout Equipment
Every fitness center has the basics, but you need more than the minimal to stand out from the crowd. By offering tools to help customize training for your clients, you can bring in more people and help them achieve their unique goals better than the competition. That's why Power Systems offers you a range of workout equipment such as dumbbells, lifting chains and strength bands that can be added to existing lifting equipment for a customized training session.

Power Systems Dumbbells and Other Add-On Weights Can Make All the Difference in Training and Recovery Power Systems offers many different products designed to increase resistance during workouts. Dumbbells and add-ons can be adjusted to match your client's current fitness level and change with them as they gain strength, mobility and/or range of motion. Weight lifting chains, lifting straps and dumbbells for sale at Power Systems come in a wide range of weight to meet specific client needs. For example, having a Power Systems dumbbell set on-hand in your facility provides a selection of various weights your exerciser can choose from as appropriate to his or her level of fitness. Lifters can further customize workouts by easily adding a magnetized plate mate to achieve the perfect amount of resistance. If you need more than just a typical dumbbell workout, you might need more than a platemate. Try adding a strength band to the mix to increase weight resistance and aid in stretching and flexibility.

How Can Power Systems Help Improve Training and Recovery with Workout Equipment?
As a fitness professional, you know that adding too much weight too soon increases the risk injury. Add too little and you won't get the desired results. By strategically placing Power Systems add-on workout equipment to your client's current machines and routines, you can safely and efficiently increase strength and improve the quality and speed of recovery and training among your clientele. At Power Systems, there is workout equipment for every level of exerciser, from the newbie to the most experienced athlete. Take a look at our selection and choose the weights and add-ons that best fit your facility and the fitness goals of your clients.
Loading ...