Whether you are opening a new studio focused on HIIT workouts, converting an unused racquetball court or renovating an existing free weight space, we have a collection of fitness equipment that has been trusted by the top names in fitness for over 30 years.

Explore how you can count on Power Systems to enhance your fitness offerings.
GROUP FITNESS
Studio environments have an important role to play for your live and virtual fitness classes. However, your members expect more from their classes now; they want plenty of equipment to avoid sharing that is sleek and easy to clean, organized in an inviting, modern atmosphere with good acoustics.
Power Systems has the widest selection of products designed for studio and group fitness training environments - including cardio pump sets, dumbbells, and kettlebells - so we can help you outfit your studio with stylish new equipment that's on trend. Explore our impressive range of studio products by checking out this 2,000 SF facility.
FUNCTIONAL TRAINING
Functional training can work for everyone, no matter where they are in their fitness journey. That's why it consistently stays at the top of fitness trend lists. Integrated storage solutions are a great way to keep your slam balls, dumbbells, and sand logs organized while providing anchor points for suspension trainers, battle ropes, and more! Add turf or rubber flooring and a few cardio pieces to build the ideal space to host group training classes.
Thinking about updating underutilized spaces in your facility? Take a look at how we used turf, modular storage racks, and cardio equipment to transform this old 800 SF racquetball court into a modern, useful, functional training studio.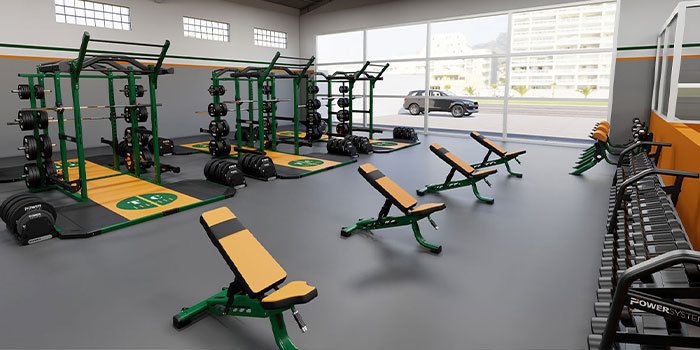 STRENGTH TRAINING
Challenge the inner athlete in your members with a complete strength room. If your old gym needs an upgrade, consider adding squat racks with platforms, Olympic benches and dumbbells to create a free weight training area for lifters of all experience levels. Power Systems offers all the weight training essentials you expect – power and half racks, benches, lifting platforms, and a variety of bars, plates, and dumbbells to make any serious lifter feel at home.
Make a strong brand statement in your strength room by adding your custom colors on Pinnacle Racks and Sierra Strength products, ProStyle Rubber Dumbbells and Barbells, as well on your floors. Get inspired by exploring this indoor/outdoor training space.
Do you have an upcoming project, or want to discuss pricing for a future order? Fill out the form below and a Power Systems Team Member will contact you shortly.