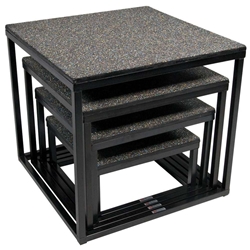 Premium Power-Plyo Box
Best Seller. Fitness classic! Plyometric boxes from Power Systems are designed to provide maximum stability and durability during your workout. Our plyo boxes are constructed of fully welded steel frames, and the tops are made from reinforced ¾" plywood with a non-slip surface to maximize safety. Specific dimensions below. Complete set is available. Features: Square tubular steel construction Reinforced top with thick rubber mat for safety and stability 4 sizes, from 12" to 30" Square and stackable for easy storage Sold individually or as a full set of 4 Rubber bottom to protect floors and prevent movement Use indoor/outdoor Black/black 5-year limited warranty Dimensions: 12" Box: 22" x 22" 18" Box: 25" x 25" 24" Box: 28" x 28" 30" Box: 32" x 32"
Options: Set of 4 | 12" | 18" | 24" | 30"
$207.00 - $894.50
15 Reviews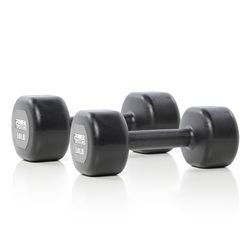 Urethane Dumbbell
STYLISH, MINIMALIST LOOK: Black coating is neutral and scuff-resistant. Each end features a clear, color-coded insert with the weights marked. Weight will not wear away with use. Our Urethane Dumbbell creates a high-end look while keeping workouts straight forward. VERSATILE AND EFFECTIVE - Maximize workouts with an exciting, mobile, low-cost option for strength training with NO SET UP. Choose the full family of urethane dumbbells or select specific poundage from 5, 8,10,12,15, and 17.5 for just the right weight for every exercise and level of training. Increase and decrease weight, repetition, and use with compounded movements for a complete workout. COMPACT - Strength training, improved bone density, and better fitness results in a small package. Designed to enhance ANY fitness class, ac...
Options: 8 lbs Pair | 15 lbs Pair
$108.00 - $201.50
10 Reviews