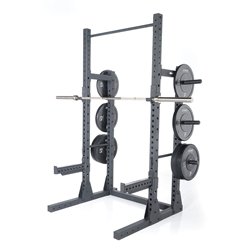 Granite Series Half Squat Rack
The Power Systems Granite Series Half Squat Rack will provide the perfect foundation for your strength programs. This half squat rack is perfect for a small to mid sized strength room or a garage gym. This rack is reinforced with butted steel plate welds and sports a black powder coated finish to hold up to tough, high volume training sessions. Barbells and weight plates sold separately. Includes a pair of J-Hooks, spotter arms and safety arms . 49"W x 48"D x 92"H. Part of the Granite series of hard working gym storage. Power Systems Granite Series of racks provides the bedrock for a hard core strength training program. Racks coming soon. Features: 6 plate storage pegs Matte black powder coat finish 2 J-Hooks 2 Spotter arms 2 Pin Pipe pegs 49"W x 48"D x 92"H Westside hole spacing Single pu...
$631.96
6 Reviews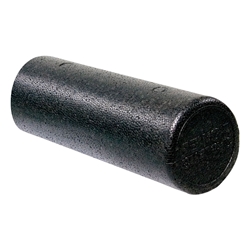 High Density Foam Roller
Best Seller! Firm, closed cell foam provides a deeper massage than our Closed-Cell Foam roller, while feeling soft on the skin. Stimulates blood flow and improves circulation to the body's soft tissues. Lengthen and loosen tight muscles or use the half-round versions to improve balance and core strength. Specially designed for frequent use, resistant to moisture and bacteria, and lasts up to five times longer than an open-celled foam roller. Clean with a damp cloth. Three lengths available. Racks and carts available. Black. Features: Closed-cell polyethylene foam for firmness Moisture resistant and long-lasting Available in 12", 18", and 36"
Options: 12", Round | 18", Round | 36", Round
$14.95 - $25.95
81 Reviews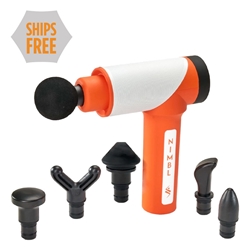 NIMBL XLR8 Percussion Gun
Professional grade quality recovery at an accessible price! Put the power of muscle recovery into your own hands with the world's leading percussion massage tool - the NIMBL XLR8 -designed to activate muscles to achieve peak performance and recovery. Massage, or percussion guns are gaining popularity in the home recovery field, especially with athletes. Percussive, also referred to as vibration, therapy provides quick bursts of pressure directly into the muscle tissue to increase the blood flow to a specific area. The increased blood flow can help reduce muscle inflammation and tension, breaking up the knotted muscle tissue that occurs after intense workouts. Using the gun before tough workouts can act as a warm up, quickly getting the body ready for exercise. Myofascial massage tools like...
Options: Percussion Gun and Attachments
$388.00
9 Reviews