GymWipes Antibacterial Wipes
Eliminate 99.9% of the germs that cause illness. These EPA registered disinfectant wipes are available in a 700 count roll. Each wipe is super-absorbent, 8" x 6" in size and pre-moistened. These antibacterial wipes are designed to sanitize all hard surfaces. The formulation begins to eliminate germs on contact, and once it has fully evaporated, the germ-killing action is complete. Alcohol-free, bleach-free and phenol-free. GymWipes Antibacterial Towelettes are proven to kill bacteria such as Salmonella choleraesuis, ATCC #10708, and E.coli, ATCC #11229. Features: Kills 99.99% of bacteria in 15 seconds - 99.999% in 4 minutes Each wipe is super-absorbent, 8" x 6" in size and pre-moistened Cleans and disinfects fitness equipment surfaces Effective against viruses, bacteria, and fungi EPA Regi...
Options: Refill Roll
$191.00
1 Reviews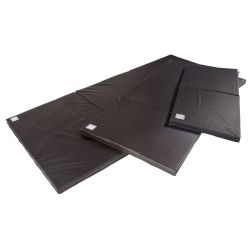 Premium Gym Mat
Two inches thick, with a heavy-duty covering made of soft cotton and vinyl that provides not only durability, but comfort, during all types of floor exercise. Made of dense polyurethane foam, these gym mats fold up for easy transportation and neat storage, either at home or in a fitness facility. Zippered covering is odor-resistant and easily wipes clean with a damp cloth. Features: 2" dense polyurethane foam Heavy-duty soft cotton/vinyl covering with zipper panel Odor resistant and wipes clean with damp cloth or GymWipes Black Fold-up design makes for easy transportation and storage 4 different sizes
Options: 48"x24"x2" | 72"x24"x2" | 72"x36"x2" | 96"x48"x2"
$120.50 - $276.00
20 Reviews