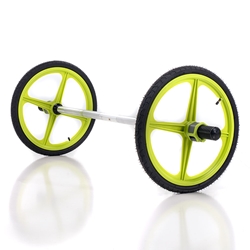 The Axle
POWER SYSTEMS EXCLUSIVE! The Axle is an ultra-light, collapsible, multi-functional barbell that is fully collapsible for easy storage in any training facility or home. Suitable for indoor or outdoor use and easily portable for a workout on the go. This unique equipment can function as a barbell, core roller, planking tool or a foot anchor for core exercises. It's also capable of holding any Olympic plate for added resistance during training. The Axle Barbell's ease of use and functionality provides anyone with the opportunity to master hundreds of exercises in a wide range of vertical and horizontal planes. To make the most of your workouts DOWNLOAD THE FREE AXLE WORKOUT APP with exercises and workouts available on iTunes and Google Play Store! Want to start with a more challenging weight?...
Options: Axle Bar, Plates, Collars | Axle Set with Footstraps | Axle Footstraps Only | One 5 lb. Ziva Rubber Grip Plate | One 5 lb. PS Olympic Training Plate
$11.90 - $231.50
25 Reviews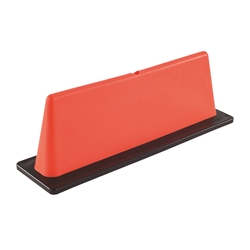 Versa Step Hurdle
Best Seller. Improve your agility skills and overall speed. Step on these extremely durable and pliable hurdles and they return to their original shape. Weighted base helps keep hurdle in place. Sold individually or in sets, with stacking carry handle. Soft PVC. Orange/Black. 18" W x 12" H. Features: Soft Orange PVC with Black base 18" W x 12" H Sets include 6 hurdles and a stacking carry handle Helps improve your agility skills and overall speed Pliable hurdles return to their original shape if stepped on
Options: 12" Set of 6
$55.50
4 Reviews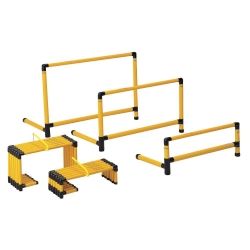 Smart Hurdle
Versatile speed and agility equipment that benefits coaches and athletes alike! Five options and simple, lightweight design allows you to set up quickly with the support of a single rotating leg. The training hurdles stay in place, even on uneven surfaces. The smaller sizes can be used for lateral drills while the larger sizes increase cardio and aid in knee lift. Coaches in a wide array of sports incorporate training hurdles into their workouts to increase speed and agility. Yellow. 6" to 42" H. Features: 5 different quantity/height combinations, from 6" to 42" high Lightweight with a single rotating leg 3-Point base system keeps hurdle in place
Options: #5: Adjustable, 27" - 42"
$80.50
1 Reviews