Portable Resistance for Personal Trainers
Meet VECTOR, a patented, dial-in resistance system that acts as a mobile cable machine. Give your clients access to light and heavy levels of resistance anywhere, with extensive exercise options and quick set-up times. By incorporating VECTOR into your training, you can improve the effectiveness of your client workouts and differentiate yourself from the competition.
Designed to be Versatile
VECTOR Resistance Training was developed with the leading minds in personal training, sports performance, and physical therapy. It is based upon the principle that you need to "vary the vectors" of your training, using resistance at wide range of angles to activate and strengthen muscles. With VECTOR's flexibility, you can engage clients with an extensive library of high-performance exercise challenges anywhere they are.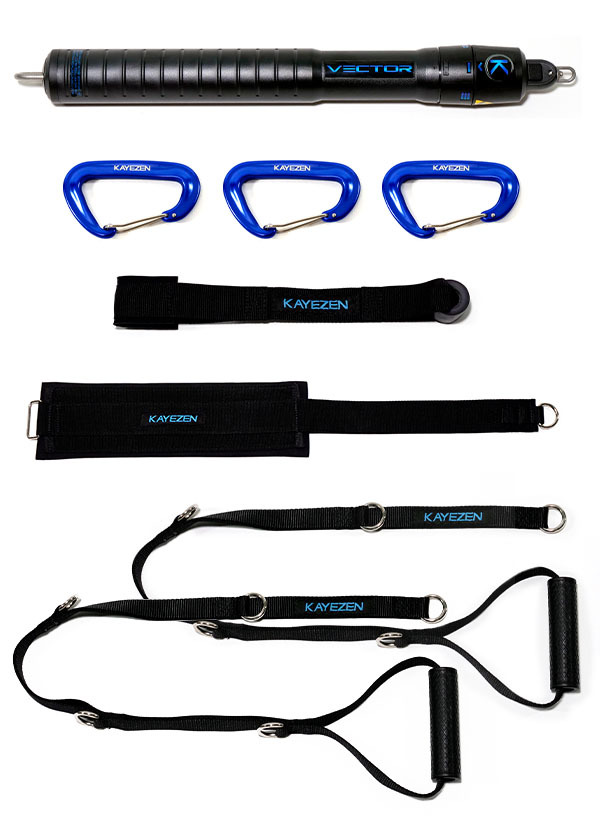 VECTOR Professional Trainer System
In this bundle designed for personal trainers, you'll get everything you need to train in a gym, studio, outdoors, or in home. It contains:
VECTOR System Cylinder - can be set up to deliver 10 - 100 pounds of resistance with a smooth pull progression.
3 Carabiners - premium Kayezen-brand carabiners rated 12Kn for fast set-up and release of VECTOR and accessories.
1 Door Anchor - developed for travel and outdoor training. Door anchor with extended loop strap that can also be secured to posts, poles, trees, and more.
1 Cinch Strap - designed for greater comfort for all resistance levels. Quickly secures to shoulders, arms, hips, thighs, and above knee or ankle level.
2 Long Strap Loop Handles - designed to offer cable machine functionality for both unilateral and multilateral full extension exercises.
VECTOR Foundations Training Course ($99 value), accredited for CECs with NASM, ACE, and AFFA
VECTOR Foundations Training Course
Get access to the best education with VECTOR Foundations Training Course, included with your purchase of the VECTOR Trainer System. This 2 hour online course is NASM, ACE and AFAA certified, and includes instruction on multiplanar training terminology, VECTOR set-up, use and an extensive review of foundational exercises and variations. Upon completion, you'll have a better understanding of the muscular function specific to position and direction of resistance and can design resistance training programs for your clients that address their specific goals.
Trusted By the Experts
"We train hundreds of professional and amateur athletes and need fast set-up and transition times between exercises and athletes – that's what the VECTOR delivers, and we can take it everywhere."

PETE BOMMARITO, Founder and President, Bommarito Performance Systems
CONNECT WITH US
Interested in getting a quote or want to explore whether VECTOR is right for you? Fill out this form and one of our VECTOR specialists will contact you shortly.