Lay the foundation for your ideal training space with premium flooring options available from Power Systems. From Group Fitness Studios to Free Weight areas, Cardio Theatres to Athletic Strength Rooms - we've got you covered.

Our team will help you select the flooring solution with the appropriate features to meet the needs of the training space, such as:
Sound- and shock-absorbent
Durability
Low-maintenance
Customizable with colors or logos
FLOORING LINES
The basic rubber gym flooring solution that covers it all.
Layered rubber flooring solutions that consider ergonomics, sound dampening, and function.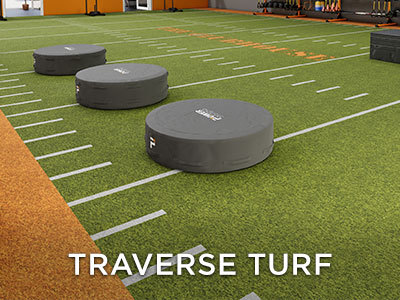 Durable and customizable indoor/outdoor turf.
FLOORING CONSIDERATIONS
BUDGET
Flooring is more than just material expense. Have you factored taxes, shipping, and installation into your budget? Plan on up to 15% of your budget to go toward these additional items.
INSTALLATION
Looking to get your flooring professionally installed? We can get you set up with an installation crew, making the process seamless.
LOCATION
Have you factored in indoor vs. outdoor placement, sound dampening for higher floors or for heavy lifting, or a smooth, ergonomic surface for jumping and pivoting?
FLOORING APPLICATION
I'M LOOKING FOR...

BUDGET GYM FLOORING
Basic rubber tiles & rolls create a seamless foundation from wall-to-wall.
I'M LOOKING FOR...

WEIGHT ROOM FLOORING
Layered rubber tiles or rolls for ideal support in heavy lifting spaces.
I'M LOOKING FOR...

TURF
No rubber infill, just indoor/outdoor synthetic turf to inspire the inner athlete.
I'M LOOKING FOR...

STUDIO FLOORING
Seamless studio and sport court flooring with the durable and ergonomic features required for these training spaces.
I'M LOOKING FOR...

LIFTING PLATFORMS
Sound and shock absorbant with a firm feel underfoot for extreme strength and conditioning.
I'M LOOKING FOR...

EVERYTHING
Highlight your brand or show your team spirit with custom colors and logos.
CONNECT WITH US
Interested in talking with us more about your flooring needs? Fill out the form below and a Power Systems Team Member will contact you shortly.