Whether you are opening a new studio focused on HIIT workouts, converting an unused racquetball court or renovating an existing free weight space, we have a collection of fitness equipment that has been trusted by the top names in fitness for over 30 years.

Explore how you can count on Power Systems to provide professional-grade products, cutting-edge educational materials, and elite customer service.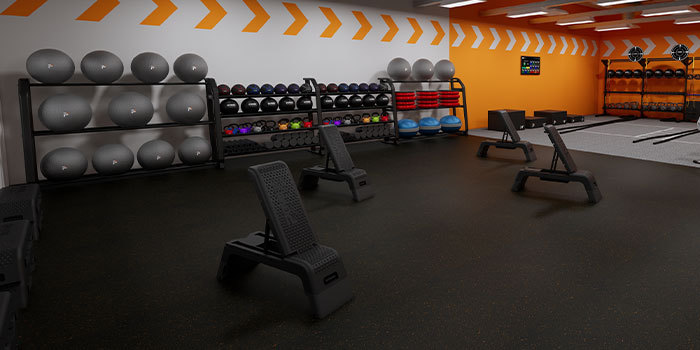 MULTI-PURPOSE TRAINING
Are you making the best use of your space? Spaces that are not used to capacity can prove costly. We can help you develop creative solutions that optimize your space and add value to your facility.
The multi-purpose training studio featured here was designed to become the ultimate training space for one-on-one, semi-private, and specialty group training classes – which can generate additional revenue and entice new members to join. From fully functional modular storage solutions - like our Pinnacle Rack - to turf and rubber flooring, we can provide you the training essentials your members are asking for.
HIIT Studio
Trying to stand out from the competition? Many studios and health clubs are choosing to include High-Intensity Interval Training areas. You can upgrade your space into the best all-inclusive fitness experience with new programming or equipment, like the Kayezen Vector, encouraging member involvement and excitement.
Where to start? Our most popular HIIT products include bikes, rowers, suspension trainers, and weighted bags. Don't forget the accents, though. Colorful lighting, walls, and storage racks can help build your brand and create the ambience you want your facility to project.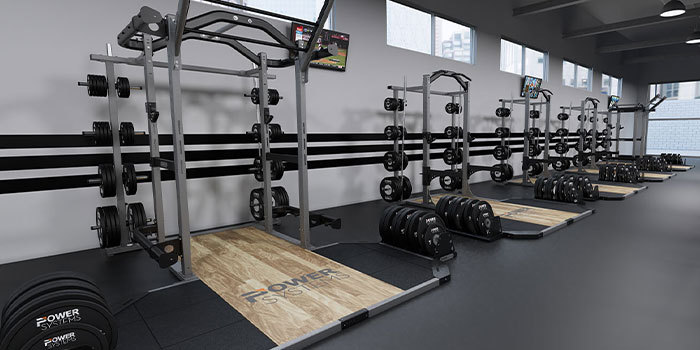 STRENGTH TRAINING
Weight lifting is more popular than ever before, with many weekend warriors choosing to add Olympic lifts to their training regime. But appearance matters. Your club strength training area shouldn't feel like an old school weight room. Instead, give your heavy lifters a better workout experience with a sophisticated strength training room.
Our Sierra Strength line comes in a sleek black or you could choose to match your club branding with many popular colors available. We can load your Power Racks with bars, plates, and complementary colored dumbbells and kettlebells. To complete your room, we carry a wide variety of sound dampening flooring tiles or rolls, plus inset or separate lifting platforms.
Do you have an upcoming project, or want to talk to our experienced sales team? Fill out the form below and a Power Systems Team Member will contact you shortly.