Wright AMP Bumper Plate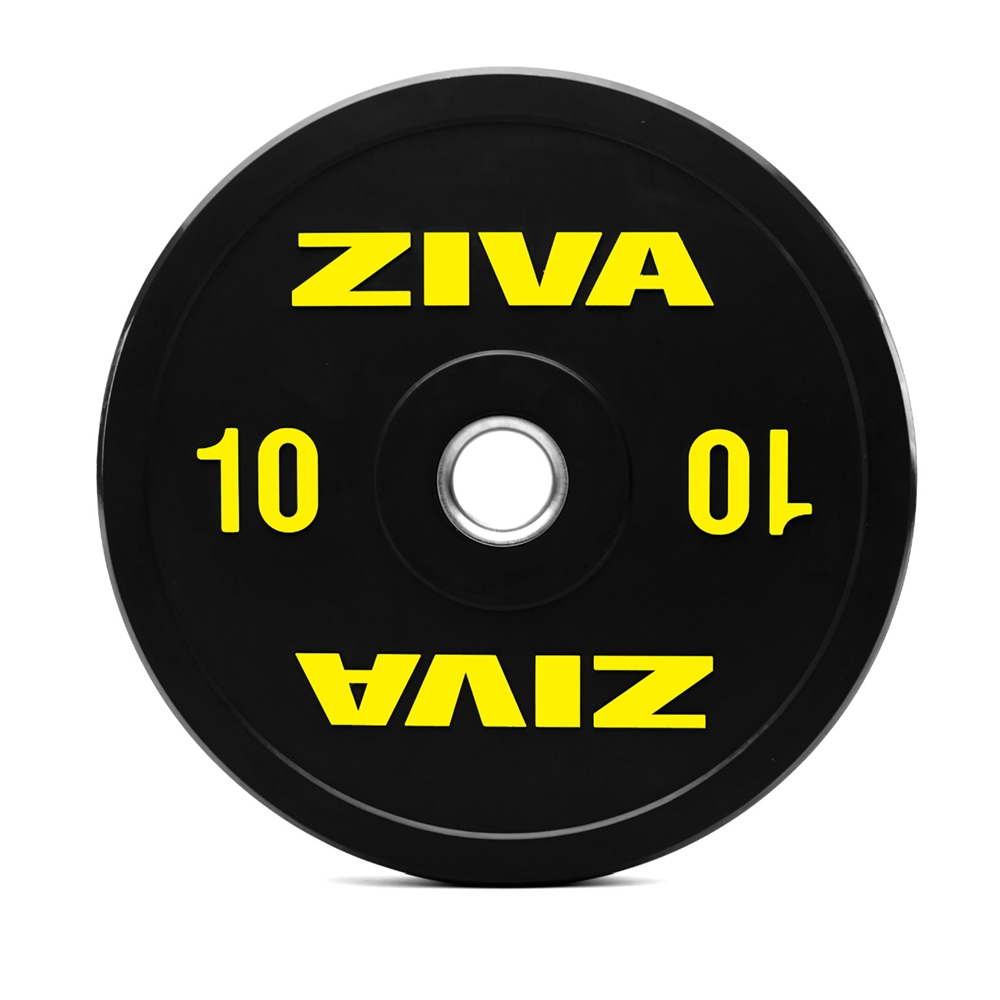 In Stock & On Sale
Rubber Bumper Plate
We found a similar product for a lower price you might be interested in.
Shop Now
Wright AMP Bumper Plates have a fresh new and improved look with a smoother finish, and the same great durability. We are using a new proprietary process to give you a smooth impeccable look, while also continuing to give the durability of an American made bumper plate Even with all these new technologies that we are using, the price did not go up. So, you get a better plate that has the same durability and specs as our ACFT plate without the cost rising.
Wright Equipment is the largest manufacturer of USA made bumper plates in the country. We were successful in making over 17 million pounds of bumper plates for Americans just in 2020, and that includes our U.S. Army. We do not cut corners; we deliver the same great plate over and over. That is why Wright Equipment is a brand you can trust as others have put their trust in us as well.
All 10-45 lb plates are a true 450 mm diameter with a 2" stainless steel center insert shaped to the bumper to properly distribute the force of the bar when dropped. Five lb plates are 200 mm diameter, all weighing within +/- 0.5LB of the stated weight. Each batch of 25LB - 55LB Wright Bumper Plates are tested to exceed 20,000 drops from 6 feet. 10LB and 15LB are tested to 7,000 drops. Not to mention, dead bounce allows for low noise workout. These best-selling bumper plates will be the best investment for your box or home gym, Satisfaction Guaranteed.

Key Features:
Extremely durable recycled rubber with low bounce
Smooth finish
Low bounce
ACFT approved
Low to no odor
Use them outdoors
Stainless steel fitted insert
Great warranty -2-year warranty on the 25, 35, 45, 55, and 100LB; 180 day on the 5, 10, and 15LB plates
Made in the USA
Plate Thickness:
5LB Plate Width: 1.25"
10LB Plate Width: 1.25"
15LB Plate Width: 1.50"
25LB Plate Width: 1.75"
35LB Plate Width: 2.50"
45LB Plate Width: 3.00"

Black
single unit
| | |
| --- | --- |
| Specs | |
| Brand | Diamond Pro |
| SKU | 61181 |
| Sold As | single unit |
| Color | Black |
| Shipping Weight | 5.0 lbs |
| Made in USA | Yes |
Black
single unit
| | |
| --- | --- |
| Specs | |
| Brand | Diamond Pro |
| SKU | 61182 |
| Sold As | single unit |
| Color | Black |
| Shipping Weight | 10.0 lbs |
| Made in USA | Yes |
Black
single unit
| | |
| --- | --- |
| Specs | |
| Brand | Diamond Pro |
| SKU | 61183 |
| Sold As | single unit |
| Color | Black |
| Shipping Weight | 15.0 lbs |
| Made in USA | Yes |
single unit
| | |
| --- | --- |
| Specs | |
| Brand | Diamond Pro |
| SKU | 61180 |
| Sold As | single unit |
| Shipping Weight | 2.5 lbs |
| Made in USA | Yes |
Black
single unit
| | |
| --- | --- |
| Specs | |
| Brand | Diamond Pro |
| SKU | 61184 |
| Sold As | single unit |
| Color | Black |
| Shipping Weight | 25.0 lbs |
| Made in USA | Yes |
Black
single unit
| | |
| --- | --- |
| Specs | |
| Brand | Diamond Pro |
| SKU | 61185 |
| Sold As | single unit |
| Color | Black |
| Shipping Weight | 35.0 lbs |
| Made in USA | Yes |
Black
single unit
| | |
| --- | --- |
| Specs | |
| Brand | Diamond Pro |
| SKU | 61186 |
| Sold As | single unit |
| Color | Black |
| Shipping Weight | 45.0 lbs |
| Made in USA | Yes |
Combine Your Purchase With