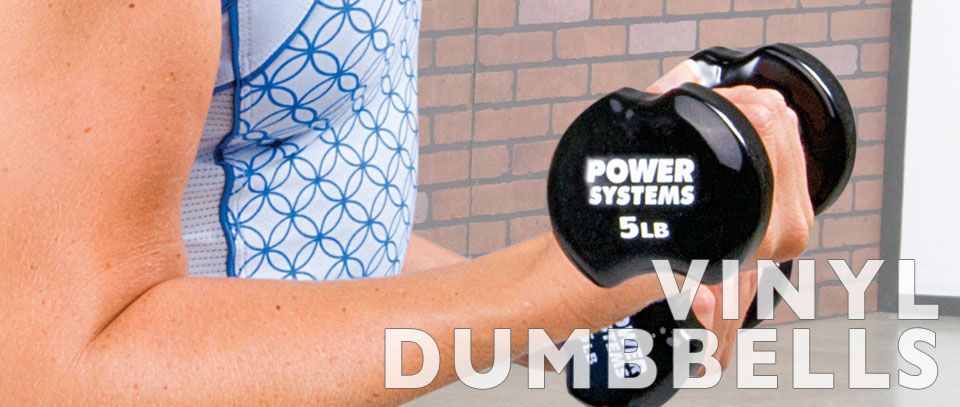 Vinyl Dumbbells
Challenge Your Body with Vinyl Dumbbells from Power Systems
Dumbbells are among the most versatile exercise equipment ever created. Vinyl dumbbell sets from Power Systems are cast-iron dumbbells coated with a thick vinyl shell, and they are available in a number of colors. By using a variety of weights, shapes, and dumbbell styles, you can challenge your body in many ways and maintain interest in your workouts over time.

What are the Advantages of Vinyl Dumbbells and Dumbbell Sets?
Unlike traditional weight machines, using dumbbells requires your muscles and joints to work in a coordinated fashion to maintain the proper form while exercising. Balance and coordination are thus improved, along with fundamental muscular strength. Using a vinyl dumbbell set not only provides progressive increases in the load, but the vinyl coating protects your floors and provides a more comfortable grip for the user. Using a dumbbell set with rack is a convenient way to store dumbbells and keep them from accumulating on your fitness center floor.
In addition to the usual strength training exercises, adjustable dumbbell sets can be used in combination with traditional weight training machines, resistance bands, and as an added load during aerobics classes and other cardiovascular workouts. Their sheer versatility makes adjustable dumbbells an indispensable part of any fitness facility, home gym, or rehabilitation center.

What Are My Choices in Power Systems Vinyl Dumbbells?
Power Systems offers their brand of vinyl dumbbells in a small, compact design that is great for stacking on a dumbbell rack. They are color coded by weight and are sold individually. The Apple vinyl dumbbell has an apple shape that keeps the vinyl-encased dumbbell from rolling away during use. This feature is particularly good for fitness class use. For larger fitness facilities, Power Systems offers two dumbbell sets with racks, one with 44 sets of color-coded dumbbells and removable steel bars. The other holds one complete set of 1 lb. - 15 lb. dumbbells on a horizontal rack with four shelves.
By providing a range of Power Systems vinyl dumbbells at your facility, along with our dumbbell training poster pack with 27 dumbbell exercises, you're sure to help your clientele achieve their fitness goals in record time.
Loading ...