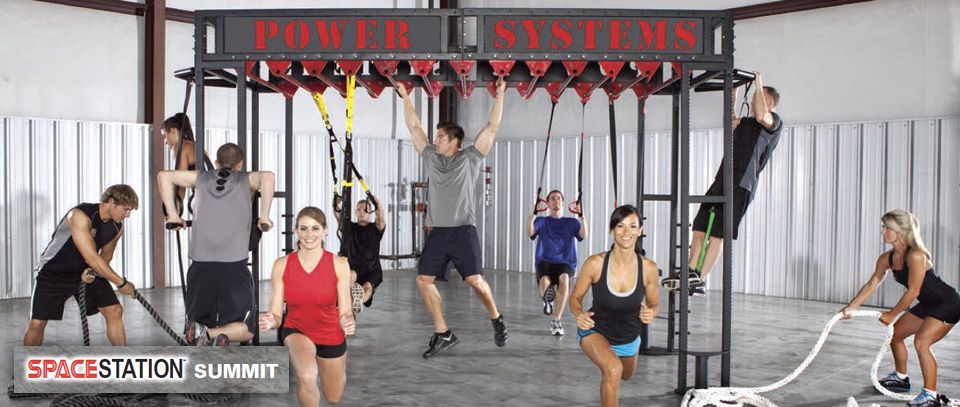 Spacestation
Train Many People at Once with SpaceStation Workout Machines
Power Systems knows how important it is to maximize space and efficiency when offering workout machines to your clientele. That's why we offer three different levels of our own multi-station workout machine, the SpaceStation. The smallest, the SpaceStation 1500, trains up to 8 people at once and is our most economical and space-saving option. The next level, the 2500, is appropriate for training 6-10 people at once. And for the ultimate in exercise equipment, there is the SpaceStation 3500, which trains up to 20 people at one time!

Why choose the SpaceStation from Power Systems?
Power Systems SpaceStations are the ideal workout equipment because not only are they space savers for your facility, they offer training for every level of athlete, from beginners to highly trained elites. They include stations for dips, monkey bars, rope anchor points, and high and low pull up bars. Along with Power Systems workout posters, your gym members or training clientele can design their own regimen on this full-body workout machine to achieve their fitness or athletic performance objectives. Beginners can work alongside their personal trainer at the SpaceStation for a full length workout, without having to spend extra time visiting different rooms and learn different pieces of equipment. This means they'll have an efficient, effective workout in the shortest time possible.

Which SpaceStation is Right for My Facility?
Power Systems three SpaceStations all offer multiple stations for space saving and efficient workouts. The workout equipment you choose will be based on your available space as well as on the fitness goals of your members or clientele. For home gyms or smaller facilities, the 1500 will work well and includes a full overhead crawl, 2 high and 2 low pull-up areas, a dip station and a step up station, and 2 rope anchor stations. If you've got the space, go for the 2500 or the 3500 to train up to 20 users at once. Whichever workout machine you choose, you can count on Power Systems quality workmanship and our deep knowledge of the most effective workout equipment and technique. You can't go wrong with a Power Systems SpaceStation in your facility.
Loading ...