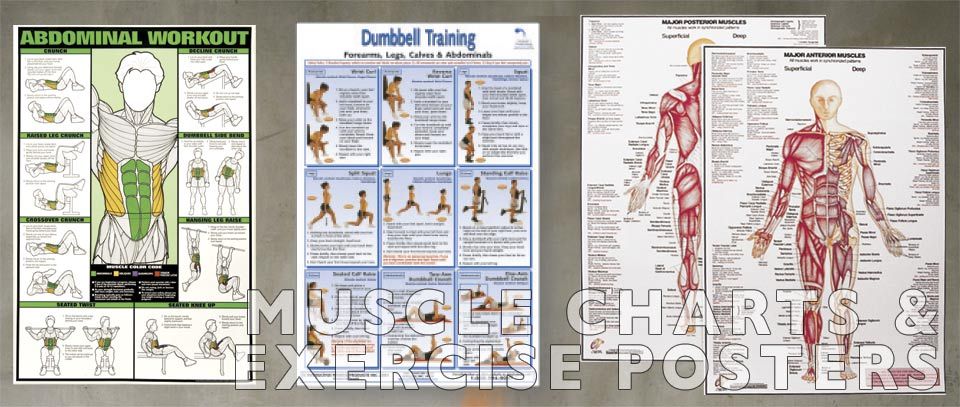 Muscle Charts and Exercise Posters
Educate and Improve Safety with Muscle Charts and Exercise Posters
As a fitness professional, you've had training, and you know a lot about muscle groups, exercises, and proper form and technique. Your gym members, aerobic participants or rehab patients may not be as well trained and experienced in these matters. Since you can't always be there in person for everyone, Power Systems offers a range of exercise charts and workout posters for strategic placement in your facility, to help guide people to the proper exercise or muscle group to train.

What Kinds of Human Muscle Charts and Exercise Posters are Available?
Power Systems offers eight different human muscle charts, bodybuilding posters, and workout charts. These include full-color muscle charts that clearly identify all major muscle groups and explain the function of muscles during sports and daily living. Suggested weight training exercises to increase muscle performance are included as well. Even the distal and proximal attachments and insertion of all major muscle groups are shown. Exercise and muscle charts show proper technique and point out the muscles used during each exercise. The Training Heart Rate poster provides instructions for taking a pulse and the formula for finding your heart rate training zone. An Abdominal workout poster provides detailed descriptions of effective abdominal training exercises, and a Body Ball exercise chart offers a wide range of body ball exercises to suit beginners to advanced athletes. Finally, a Dumbbell Training poster pack provides 27 dumbbell exercises to train the entire body.

How Can Power Systems Help Improve Safety and Education with Muscle Charts and Exercise Posters?
By strategically placing Power Systems bodybuilding charts and fitness posters in appropriate locations in your facility, you can increase knowledge and improve safety among your exercisers. Beginners' injuries due to improper technique can be reduced through the use of exercise technique posters, and human muscle charts help advanced athletes target exactly the muscles they wish to train to achieve their fitness objectives.
There's a workout poster or chart for every level of exerciser, from the newest to the most elite. Browse our selection and choose the posters that best fit your facility and the fitness goals of your clientele.
Loading ...