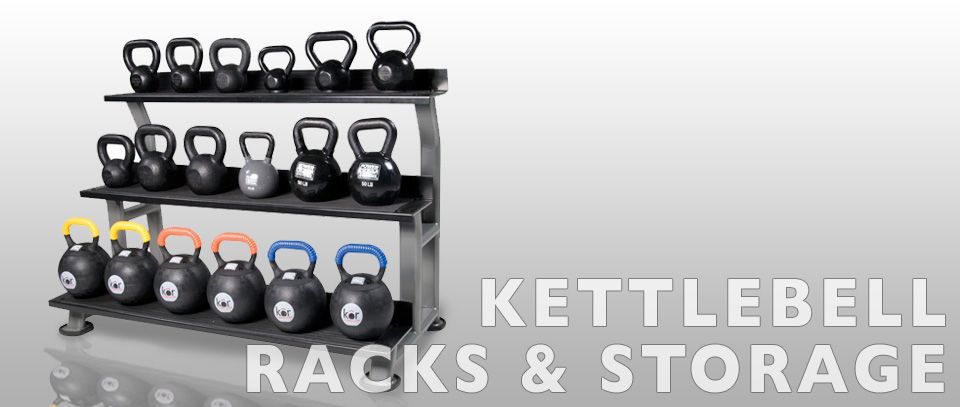 Kettlebell Racks
Develop Strength and Overall Range of Motion with Kettlebells
Add variety and power to your workout with kettlebells. Power Systems knows that kettlebells are a fun and effective way to develop overall strength and range of motion, and they include a great cardio workout at the same time. A variety of kettlebell weights can be stored on a kettlebell rack to provide convenient access to distinct levels of challenge. Beginner exercisers and advanced athletes all enjoy kettlebells, because they are an alternative to a traditional strength training routine. What's more, kettlebells are a "one-stop" workout alternative thanks to the cardio workout, fat burning, and strength benefits they provide.

What Are the Benefits of Using Kettlebells and Kettlebell Racks?
Kettlebells can be used for popular strength training exercises such as squats, snatches, cleans, jerks and more. By using a kettlebells set on a kettlebell rack, you can progressively increase the load and achieve greater benefits over time. Power Systems offers the best quality kettlebells, which provide significant calorie burning along with strength training. In addition, kettlebells are known to offer better range of motion than most traditional weight machines can provide, and they support the maintenance of daily activities such as lifting heavy items, reaching items from up high, and opening heavy doors. These are all useful activities to maintain as we get older, and they can be incorporated into a fun workout for exercisers of all levels.
Kettlebells add interest to your clientele's routines. You may notice some of your members or students getting bored with their regular fitness regimen. If so, we suggest offering Power Systems kettlebells on a kettlebell rack at your facility to help motivate them to strive harder to achieve their fitness goals in a proven, effective manner.

How Can My Clientele Use Kettlebell Racks Most Effectively?
Kettlebell racks secure your kettlebell sets safely by getting them up off the floor and making them easy and convenient to reach. The racks also protect the finish of both your kettlebells - and your floor! Whether you have a home gym or a commercial fitness facility, Power Systems has kettlebells for sale along with kettlebell racks to suit each environment and a range of client fitness levels.
Loading ...