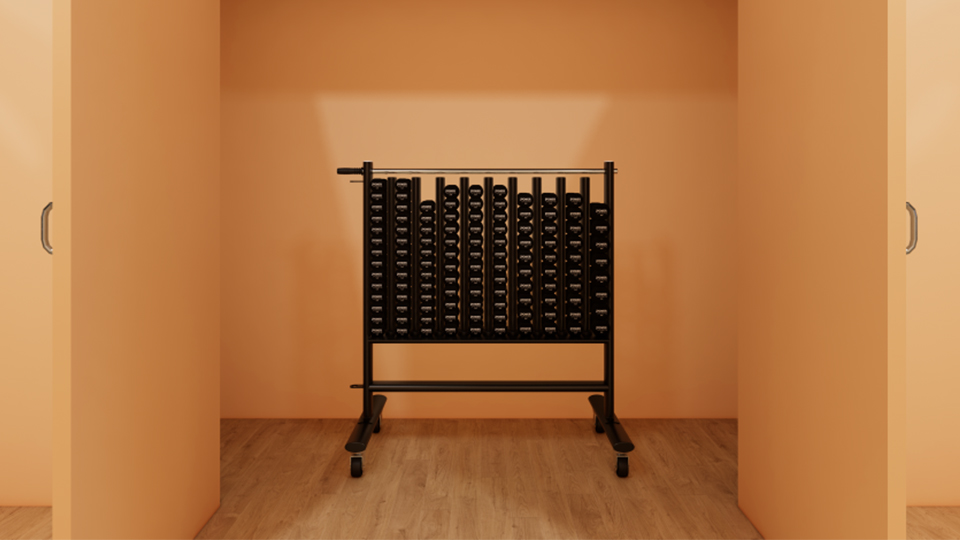 Dumbbell Sets
Dumbbell Sets Allow Your Clients to Work Out With the Least Possible Amount of "Setup Time"
Dumbbells are one of the oldest pieces of exercise equipment in the world. The term first originated in 17th century England, and referred to a piece of training equipment that simulated the action of pulling a bell rope but was "dumb" because it wasn't actually attached to any bells. When strongmen started to make their own equipment, they kept the name "dumbbells."

What Are Dumbbell Sets?
In modern practice, dumbbells are a series of free weights that are different from barbells in that they are intended to be held in only one hand, to exercise one arm at a time. Dumbbells can be adjustable – a short metal lifting bar, on which you mount vinyl-covered metal plates to achieve the weight you want – or fixed-weight. The latter are more common in modern gyms and training facilities, stacked in racks so that multiple athletes can just walk over and pick the weight they want, without having to manually replace plates every time.

What Should You Look for in a Dumbbell Set?
In all honesty, when it comes to selecting racks of dumbbells for your facility, you're not likely to be swayed one way or another by "features." They're dumbbells, and their only useful "feature" is that they fit most people's hands and have knurled grips so that they don't slip when you're using them. But at Power Systems we carry a number of different dumbbell sets and racks in configurations to suit individual needs and tastes. Our most economical dumbbell sets may hold 12 pairs of vinyl - or neoprene-covered dumbbells, but if you have a larger facility with more free weight clients, you may be better served by one of our larger dumbbell weight sets, with room for up to 44 pairs. You can choose variety in terms of appearance, too, because some are basic "barbell black," while others come in bright neoprene colors that can help to make exercising with them more fun. So whether you are supplying a small gym or a large, professional training facility, when it comes to supplying your free weight area with the dumbbell sets you want, come to the exercise equipment experts at Power Systems. We'll help you find what you want, at the price you want.
Loading ...