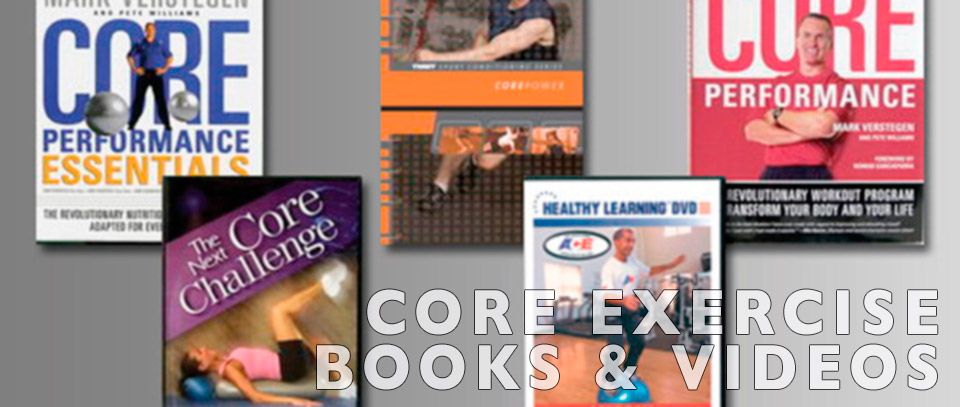 Core Exercise Books and Videos
Help Clients at Your Facilities Find the Fitness Books They Need
Whether you run a commercial fitness center or a professional training facility, one thing remains constant – people need instruction before they can exercise properly and gain the maximum benefits from their workouts. Yes, your facilities may have trained instructors, but even the instructors need to stay "up to speed" with the ever-changing world of workout equipment and exercise theories, and they need books to do this.
You know that Power Systems offers the finest and most extensive range of health and fitness equipment available anywhere. Well, this is just a reminder that we also offer the biggest and most extensive range of health and fitness books, wall charts, CDs, videos, and other training materials that you need. Setting up a display of such books in the lobby or cool-off room of your facility is a way to provide your clients with the quality educational materials they need, and at the same time increase your profits.

What Types of Health and Fitness Books Does Power Systems Carry?
Well, to be honest – you name it, and we probably carry it. Whether you need large, self-explanatory wall charts so that clients can self-train on weight training equipment, or books and videos explaining routines based on more specialized equipment, we have what you need. We carry books and videos on core training, dumbbell and free weight exercises, as well as books and videos on most workout routines taught in a group environment, such as aerobics or spinning classes, balance ball or medicine ball training, aquatic exercises, Pilates, yoga, plyometrics, jump rope, and even individual sports like skiing and snowboarding.

How Can Power Systems Help You Build Your Library of the Best Fitness Books?
You already know that Power Systems is your resource for "one-stop shopping" for all of the exercise and workout equipment you need for your facilities. Now you can provide the clients of those facilities with the convenience of finding the educational materials they need without having to go to a bookstore. You can set them up a display of such materials as a kind of lending library, or offer them for sale to increase your profits as you increase customer satisfaction. Plus, if you are offering new classes based on specialized forms of training that require instruction, you can pre-order the books that clients need so they are available during the first class. So whenever you need health and fitness books and videos, look for them first at Power Systems. We have the materials you need at the prices you want.


Loading ...