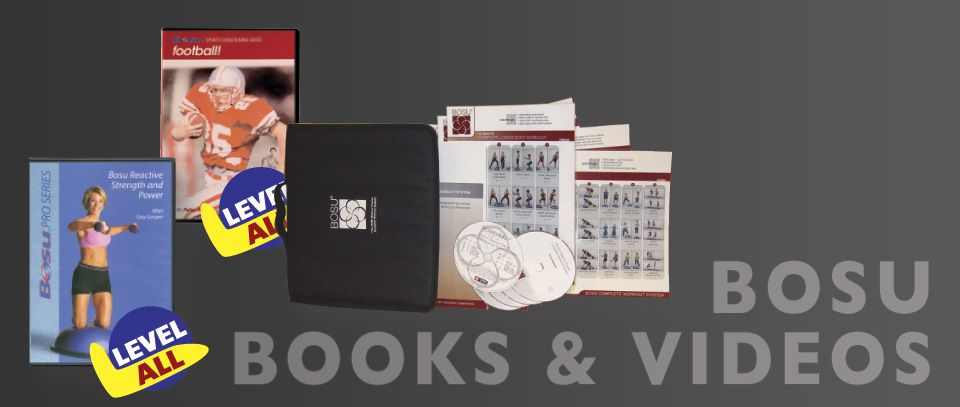 BOSU Books and Videos
Learn How a Bosu Ball Can Enhance Your Exercise Program
A Bosu ball is an effective way to make many types of exercise and training programs more challenging. Power Systems offers a variety of Bosu books and videos to serve as a guideline for use with the Bosu balance trainer. Bosu balls are used for mind and body exercises, athlete training, cardio, strength training and rehabilitation. A Bosu book or video is an ideal companion to enhance performance in a specific sport such as skiing or football or to increase the versatility of your Pilates class.

How is a Bosu Ball Used to Enhance Exercise?
A Bosu ball gets its name from BOth Sides Up because you can use it with either the rounded part or the flat surface up. This increases the number of ways that you can use the Bosu trainer in a variety of exercises. The demand to maintain balance while exercising brings more muscle groups to the workout and increases core strength. The right choice in Bosu book or video can help you pinpoint the best exercises to get the results that pertain to your sport or fitness need. Choose from Bosu ball instructional programs that are sports-specific or from an exciting cross-training DVD that offers a challenging program that aids in overall fitness in every exercise area. BOSU Xplode is a 5-part cross training series that encompasses a variety of hardcore exercises featuring a number of leading conditioning coaches and fitness educators including Todd Durkin and Keli Roberts.

How Can I Use a Bosu Ball Trainer in My Fitness Class?
Power Systems carries Bosu balls for the home and for classroom use and training situations. A Bosu book or DVD like the Bosu Studio Pilates can increase your variety of exercises and show you how to use a Bosu ball to do the same exercises and new ones while increasing the benefits.
The Bosu trainer is the perfect complement to nearly any type of exercise class you instruct. Power Systems has the Bosu ball needed for every fitness setting and the Bosu book or DVD you need to get the greatest variety from your Bosu workout.


Loading ...