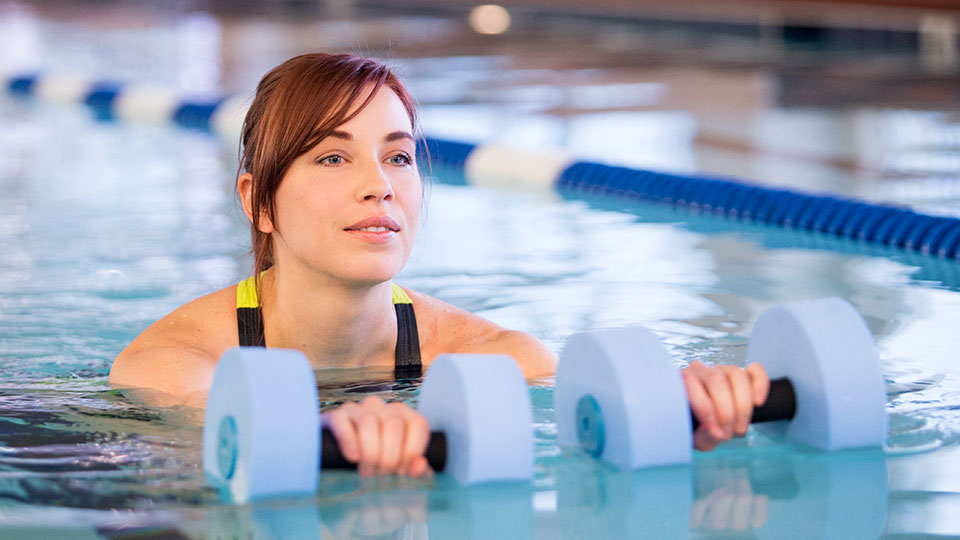 Aqua Fitness and Accessories
Aqua Fitness: A Fun, Low-Impact Way to Work Out
There's more to aqua fitness than swimming lap after lap. With the right water aerobics equipment, you can take advantage of a huge variety of exercises to help build muscle, burn calories, and lose weight, all without putting any unnecessary strain on joints and muscles. Aqua aerobics are endlessly adaptable for just about any fitness level, making this form of exercise accessible to just about anyone. And here's the best part: exercising in the water can be really, really fun.

What Types of Equipment for Aqua Fitness are Available?
There are many different types of aqua fitness equipment available to meet a variety of goals and needs. Water resistant weights add extra resistance to help you build muscle. These weights can be in the form of dumbbells, or in cuffs that attach to your legs or ankles. Water noodles are a popular way to support your balance and assist in maintaining certain positions. Aquatic boards help support your upper body, making lower body exercises more accessible. A bar float looks like a large water dumbbell and provides you with extra buoyancy and resistance. Finally, buoyancy belts provide stability to your center of gravity, giving you a better range of motion when exercising in deep water.

How Can I Benefit from Aqua Fitness?
Getting the most out of aqua fitness requires you to find the right kind of exercise for your needs. Before you get started, talk to your doctor or physical therapist to determine your goals. They may also recommend certain types of exercises that are best suited to your current level of health. Next, find a pool in your area. If you plan to visit a public pool, check to see if they offer any aqua fitness classes. If your nearest pool is in your own backyard, an aqua aerobics DVD can guide you through your aquatic workout. This type of exercise is endlessly adaptable, so be sure to make adjustments based on your current fitness level and your body's needs.
Whether you're looking to aqua fitness to recover from an injury, lose weight, or simply enjoy a fun way to get your blood flowing, Power Systems offers the equipment you need to get the most benefit from your workout. With the right tools and support, you're sure to get the most out of your time in the pool.
Loading ...