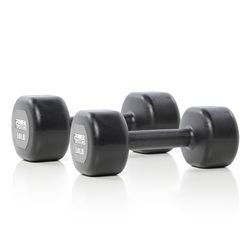 Urethane Dumbbell
STYLISH, MINIMALIST LOOK: Black coating is neutral and scuff-resistant. Each end features a clear, color-coded insert with the weights marked. Weight will not wear away with use. Our Urethane Dumbbell creates a high-end look while keeping workouts straight forward. VERSATILE AND EFFECTIVE - Maximize workouts with an exciting, mobile, low-cost option for strength training with NO SET UP. Choose the full family of urethane dumbbells or select specific poundage from 5, 8,10,12,15, and 17.5 for just the right weight for every exercise and level of training. Increase and decrease weight, repetition, and use with compounded movements for a complete workout. COMPACT - Strength training, improved bone density, and better fitness results in a small package. Designed to enhance ANY fitness class, ac...
Options: 5 lbs | 8 lbs Pair | 15 lbs Pair
$23.00 - $201.50
15 Reviews
Wall Ball
BRAND NEW The new Power Systems Wall Ball is designed to maximize workout performance while withstanding the toughest of exercise programs. Enjoy the results of the durable black vinyl shell and internally reinforced design as it absorbs high velocity impact while maintaining its' shape. Standard 14" diameter ensures consistent form as you practice, with ten weight options from 6 to 30 lbs. Black. Racks available, for up to eight balls and for up to sixteen balls. See it in a room! Our HIIT Studio, Functional Training Room, and Athletic Training Room 3D rendering examples will give you a feeling of how the Power Systems Wall Ball can work in your facility! Features: One diameter helps with consistent form while training from lower to heavier balls Soft, black vinyl shell with a moisture an...
Options: 6 lbs | 8 lbs | 10 lbs | 12 lbs | 14 lbs | 16 lbs | 18 lbs | 20 lbs | 25 lbs | 30 lbs
$75.50 - $146.50
10 Reviews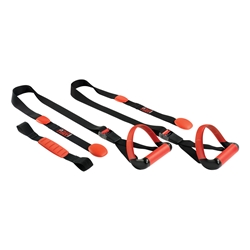 Lifeline Jungle Gym XT
Best Seller. The Jungle Gym XT comes with two eight foot, industrial-strength suspension straps with integrated handles that are easy to grip with either hands or feet, depending on the exercises being performed. Easily change the width of the system to target different muscle areas. Use the system in a traditional V-shaped configuration or use a vertical orientation that resembles the Olympic ring equipment popular in functional and cross training. The Easy-In Foot Cradles make transitioning between different types of exercises easy. For use in buildings with tall ceiling beams, Jungle Gym XT Strap Extenders (sold separately) will add eight feet of length to each side of your system. Attach to mounted anchor points or any sturdy rack system. Portable and great for travel or small faciliti...
$120.00
2 Reviews