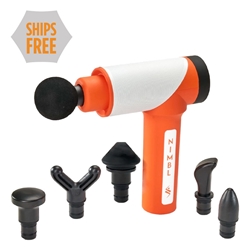 NIMBL XLR8 Percussion Gun
Professional grade quality recovery at an accessible price! Put the power of muscle recovery into your own hands with the world's leading percussion massage tool - the NIMBL XLR8 -designed to activate muscles to achieve peak performance and recovery. Massage, or percussion guns are gaining popularity in the home recovery field, especially with athletes. Percussive, also referred to as vibration, therapy provides quick bursts of pressure directly into the muscle tissue to increase the blood flow to a specific area. The increased blood flow can help reduce muscle inflammation and tension, breaking up the knotted muscle tissue that occurs after intense workouts. Using the gun before tough workouts can act as a warm up, quickly getting the body ready for exercise. Myofascial massage tools like...
Options: Percussion Gun and Attachments
$388.00
9 Reviews
NIMBL XPRS Percussion Gun
The NIMBL XPRS is a compact percussion massage device with a sleek satin metal finish that's powerful enough to tackle the toughest muscle challenges and small enough to travel anywhere. The XPRS is ideal for trainers, physical therapists and their clients. Compact Design 4 Attachment Heads 4 Refined Settings Carrying Case USB Charger Free Online Education (a $99 value) Feather Light Whisper Quiet E-Z Comfort Grip Quick Charge
Options: Percussion Gun and Attachments
$209.00
4 Reviews
SledMill
Sled train in limited space! SLED PUSHING is one of the most effective exercises today. It's a total body workout that improves strength, stamina, speed and power! Typically you need 40–50 yards of space to train. Not anymore! Now you only need 8 feet! All the benefits of sled training in a compact design. Plus the SledMill is green so all the power comes from you! Option offered is Gun Metal Gray. Features: The flat low friction roller deck design allows for maximum functionality and versatility Replicates all sled exercises – including sprints Simulate athletic movements performed on court/field — great for developing sports specific stability, speed and power Bi-directional brake – forward or backwards Quickly change directions (forward, lateral, backwards) Trains how to generate maximu...
Options: Gun Metal Gray