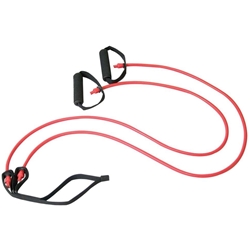 Double Cords
Perfect option if you lack space. Double Cords offer a full range of motion and simulate exercises performed on cable weight machines. All the resistance tubing from Power Systems is produced using a unique layering process that improves longevity in commercial or institutional settings. Tubes are connected with a 10.5 inch nylon anchor strap that can be held by a partner or attached to a fixed object, like a doorjamb. Six resistance levels for any user, whether you are an experienced athlete or just beginning fitness training. Plastic handles with padded grips, 36" long. Contains Latex. Features: Available in 6 resistance levels from extra-light to ultra-heavy Double tube tension bands adds resistance Allows you to work in multiple planes of movement Allows you to work out with a partner ...
Options: Light | Medium | Heavy
$29.50
15 Reviews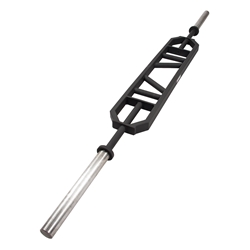 Multi Grip Bar
Three different hand positions for complete overall muscle development of the shoulders and chest. Ergonomic hand placement options help reduce stress on shoulders and wrists during pressing exercises. 84" L. Sleeve: 15 1/4". Heat-treated alloy with knurled hand-grips. Black. Additional shipping charges may apply. Collars and plates sold separately. Features: Ergonomic handles help reduce stress when performing heavy lifts. Heat-treated alloy with knurled hand-grips Fixed sleeves Color: Black Length: 84" Sleeve: 15 1/4"
$387.95
3 Reviews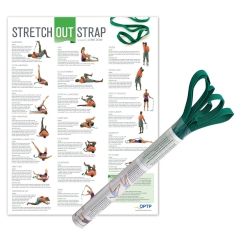 Stretch Out Strap with Chart
Best Seller. The ten loops on the 72" long nylon strap allow you to progressively stretch the major muscle groups of the body. Start with a light stretch and work your way down the strap to a deep, full body stretch. Green. Heavy-duty nylon. 72" L x 1" W. 1 lb. Made in the USA. Includes chart. Also available with book. Features: Durable nylon strap lets you pull through a full range-of-motion 10 fixed loops provide more static stretching Chart to show you the proper way to use the Stretch Out Strap
$22.50
1 Reviews