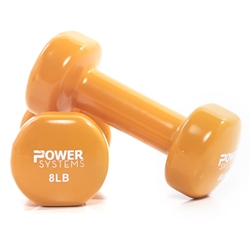 Deluxe Vinyl Dumbbell Prime
FRESH NEW LOOK: Featuring our color and weight communication system, our Deluxe Vinyl Dumbbell Prime creates a high-end look while keeping workouts straight forward. Same great design as our best-selling Deluxe Vinyl Dumbbells. VERSATILE AND EFFECTIVE - Maximize workouts with an exciting, mobile, low-cost option for strength training with NO SET UP. Choose the full family of vinyl dumbbells or select specific color-coded poundage from 1, 2, 3, 4, 5, 6, 7, 8, 9, 10, 12, and 15 for just the right weight for every exercise and level of training. Increase and decrease weight, repetition, and use with compounded movements for a complete workout. COMPACT - Strength training, improved bone density, and better fitness results in a small package. Designed to enhance ANY fitness class, activity, or ...
Options: 1 lb Orange Pair | 2 lbs Lime Green Pair | 3 lbs Red Pair | 4 lbs Light Blue Pair | 5 lbs Purple Pair | 6 lbs Gray Pair | 7 lbs Black Pair | 8 lbs Orange Pair | 9 lbs Lime Green Pair | 10 lbs Red Pair | 12 lbs Light Blue Pair | 15 lbs Purple Pair
$8.25 - $49.50
132 Reviews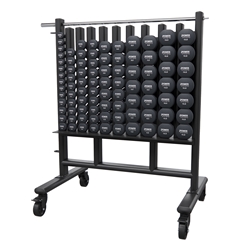 Premium Dumbbell Storage Rack
NEW FOR 2023 - updated design and robust materials! We've added a reinforced base, thicker gauge steel, larger, lockable casters, and a matte black finish to this studio class staple. Keep your Black Neoprene or Vinyl Dumbbells off the floor and out of the way. Removable steel bar slides into place to lock dumbbells into rack when not in use (lock not included). Casters allow you to move the entire rack full of dumbbells out of the way when they are not in use. Assembly required. Dumbbells sold separately. Ships freight carrier. Kits also available. Features: Removable solid steel bar that slides into place to lock dumbbells when not in use (lock not included) Steel construction Holds up to 44 pairs of dumbbells - kits available Heavy-duty casters for easy movement 36"L x 24"W x 42"H Matte...
Options: RACK ONLY
$449.95
2 Reviews