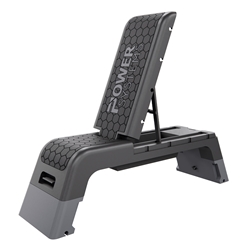 Power Systems Deck
Introducing the Power Systems Deck! Harnessing the latest innovations in product development, the Power Systems Deck features a non-slip rubber surface that ensures greater stability throughout every movement while expanding workouts like no other tool in a tight, portable package. Enhance cardio workouts by incorporating step and bench-based movements up to 330 lbs. Transform from the deck from an inclined or declined weight bench for strength training. The thoughtful design and stability carries through when transporting and storing the deck for group fitness classes or training on-the-go. When you want to achieve low impact aerobics, set deck at 8 inches for you and your group. Add more challenge and intensity using the risers to elevate the deck to 14 inches. Attach tubes, store access...
Options: Deck only
$200.50
21 Reviews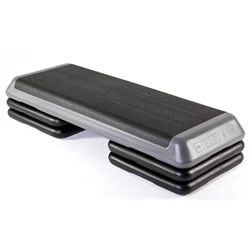 Original Health Club Step
Best Seller. The name says it all! This is the step that started the greatest exercise trend in the fitness industry. Adjustable heights of 4", 6" and 8". Rubberized deck and slip resistant bottom. Includes platform and four risers - each also sold individually. Kits and storage carts available. 22 lbs. Features: Includes platform and four risers - each also sold individually Black/Gray or Black/Teal Height adjusts to 4", 6" and 8" Weight limit 400 lbs 40" L x 14" W Cannot be sold outside the US.
Options: with 4 risers | with 4 risers
$109.95 - $115.95
8 Reviews
SledMill
Sled train in limited space! SLED PUSHING is one of the most effective exercises today. It's a total body workout that improves strength, stamina, speed and power! Typically you need 40–50 yards of space to train. Not anymore! Now you only need 8 feet! All the benefits of sled training in a compact design. Plus the SledMill is green so all the power comes from you! Option offered is Gun Metal Gray. Features: The flat low friction roller deck design allows for maximum functionality and versatility Replicates all sled exercises – including sprints Simulate athletic movements performed on court/field — great for developing sports specific stability, speed and power Bi-directional brake – forward or backwards Quickly change directions (forward, lateral, backwards) Trains how to generate maximu...
Options: Gun Metal Gray