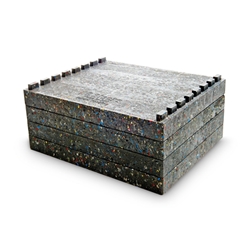 Jerk Blocks - DC Blocks The Original
The original, light-weight, portable, virtually indestructible, crenellated, interlocking pulling block. The Original is 19" long, 15.5" wide, 2" tall, and weighs a mere 10.5lbs. The standard for pulling from any position, easy to change configurations, and a small footprint for storage. Want to add a smooth top for easier plyo exercises? Add The Flat Top - sold separately. Need more surface area? The Double-Wide could be a better option. Features: Lightweight - 10.5 lbs. per block Virtually indestructible - scrap plastics processed and hydrolic-pressed into into the patented, interlocking DC Blocks mold 19"L x 15.5"W x 2"H per block Easy to stack to the height you need, easy to store when you don't Best Uses: DC Blocks® The Original - Set of 12 - Good for lifting from the knees and plyome...
Options: Set of 12 | Set of 18 | Set of 24 | Set of 32 | Set of 40
$669.50 - $2,099.50
5 Reviews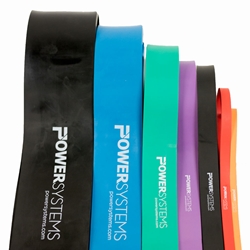 Strength Band
Best Seller! Add resistance to standard strength building exercises, like chest presses and squats. Offset body weight for pull-ups and tricep dips. Bands are also a great tool for increasing flexibility and range of motion. Available in seven resistance levels: extra light, light, medium, heavy, extra heavy, ultra heavy, and super heavy. Each closed loop band is 41 inches long and is made from seamless latex rubber designed to resist breakage. Width and weight of band depends on the resistance. Contains Latex. For more information about selecting a strength band, and some exercises you can do with the bands, click here. For our YouTube playlist, click here. Features: Cost-effective and space-saving all-body exercise tool Sturdy, seamless latex Great for partner workouts Which Band Should ...
Options: Extra Light | Light | Medium | Heavy | Extra Heavy | Ultra Heavy | Super Heavy
$13.95 - $82.95
280 Reviews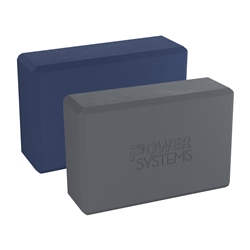 Yoga Block
Best Seller! These lightweight, durable foam blocks are a perfect tool for additional support during transitions and poses. The various sides offer three different heights to meet your needs and goals. 9" L x 6" W. Features: Two color options: Blue or Purple Two thickness options: 3" or 4" 9" L x 6" W Adds additional support during transitions and poses Durable, foam block
Options: 9"x6"x3" | 9"x6"x3" | 9"x6"x4" | 9"x6"x4"
$14.50 - $18.50
8 Reviews