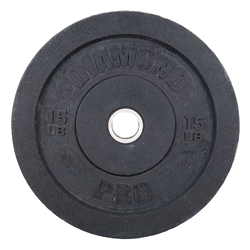 Diamond Pro Bumper Plate
Diamond Pro bumper plates are a step above your average plate, because they offer a durability most plates don't. They are made of recycled rubber, so they won't make nearly as much noise as cast-iron plates. They are available in six different weight options. The specifications for this plate include 450mm. diameter and a 2 in. stainless steel insert. ***Due to higher than normal inventory requests, the manufacturer retains the right to substitute with a comparable brand product. Features: Dimensions: 450 mm. diameter and 2 in. stainless steel insert It is not recommended to drop the 10 lb. and 15 lb. a point higher than 36 inches. Doing so voids warranty. Made from recycled rubber Available in 6 different weight options Colors vary by weight Plates sold individually - not in pairs Additi...
Options: 35 lbs
$53.21
1 Reviews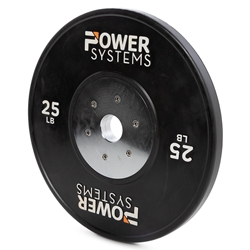 Training Plate Black
Maximum durability in high-volume strength training sessions! While our rubber training plates are technically classified as bumper plates, the reinforced inner stainless steel disc makes them look and function differently. The wide inner disc evenly distributes force across the plate when dropped and reinforces the weakest part of the plate - the center hole is where most bumpers wear and crack over time. Training plates are ideal for high-volume Olympic Weightlifting and Powerlifting programs. Power Systems Training Plates are available in 4 weight options, from 25 to 55 lbs. Black. Change Plates (2.5,5,10) also available. Olympic colors also available. Sold individually - not in pairs. Racks, bars, and collars sold separately. See it in a room! Our Athletic Strength Room, Strength Train...
Options: 25 lbs | 35 lbs | 45 lbs | 55 lbs
$95.00 - $181.00
12 Reviews
Hex Bar
IMPROVE DEADLIFT TECHNIQUE AND FORM – A hexagonal shaped barbell will help you perfect a deadlift that is hip dominant, with the bonus of being easier on the joints than standard barbells. The wide, neutral grip keeps your spine and joins aligned resulting in correct form for a perfect lift. SPECIALTY HEX BAR KEEPS WEIGHT IN CENTER MASS – Stepping into the center of a hex bar puts your center of mass in the middle of the bar – equally distributing the weight from left to right and front to back. This sets you up to tackle heavy lifts while staying centered and grounded. ADD EXTRA WEIGHT TO LIFTS SAFELY – Challenge your max lifts and build more muscle by adding heavier weights to this bar. The varied handles and grips help you carry more weight than a typical barbell. QUALITY CONSTRUCTION A...
$208.00
8 Reviews